This is the main page of ARVEPLAN
Here is a list of all your current birds.
In the menu at the top, there are a lot of features.
The most importen is;
Menu "Selection" and "Sex" to choose which birds you want to see.
"Show" to choose which fields you want to see in this overview.
In the fiends "Ring", "Cage" and "Color".
You can select in your birds, eg show all my birds starting at 19 (years) or all birds containing Blue (type *Blue in the color field)
At the bottom there are buttons with access to other functions in ARVEPLAN
The most important is:
Edit bird
Create bird
Pair
Create Pair
Familiy tree
Breeding status
Clear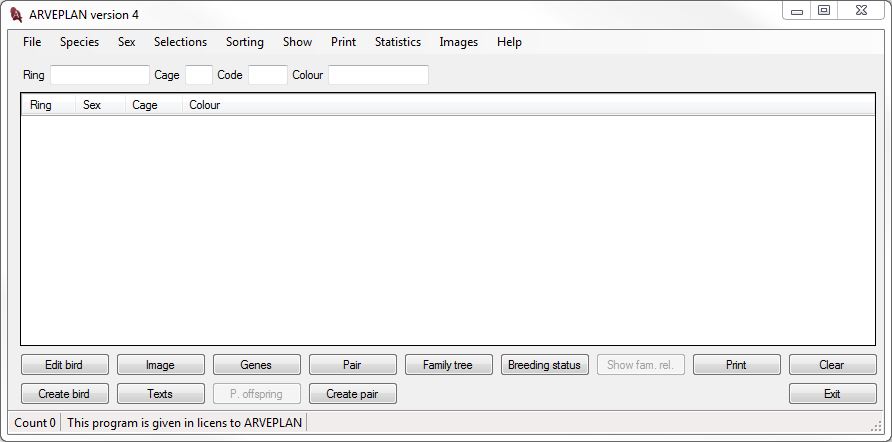 Description of all

menu items.
Menu "File"
System setup
Spicies
Change name and password
Genetic calculator
Change fields
– Change field "Ring"
– Chage fiend "Staying in cage"
– Change fiend "Code"
– Add external note
– Add internal note
Copy (Ctrl+C)
Select all (Ctrl+A)
Select none
Data backup
Restore Backup
Export pedigree
Import pedigree
Copy field to sex test
– Ring to clipbord
– Born to clipbord
– Color to clipbord
Import sex test
Exit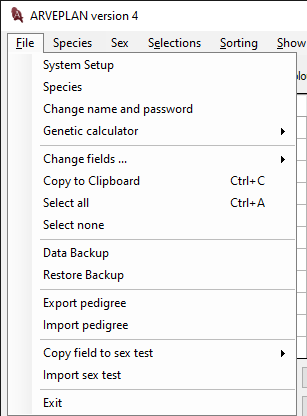 Menu "Selection"
Ex. show current birds, sold birds, show only males or females.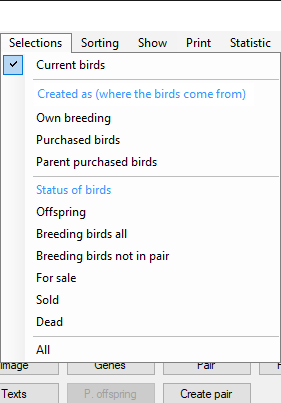 Menu "Show"
You can choose which fields to display in the overview.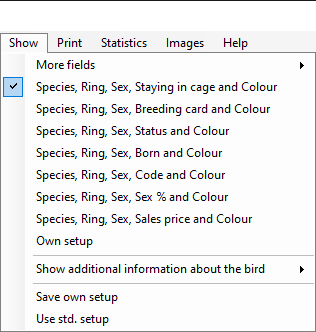 Menu "Print"
You can print various prints, for example Pedigree and Bird list