New birds should start with ring No.
Here you can write what your "Ring No." start with. Ring must start with year (year-breeder number-serial number) ex 20-BVA2574-0. When you creating youngs, simply enter the last digit (serial number) in the field.
If you have a purchased bird, the text is just overwritten.

Year breeding card must start with


LOGO on Pedigree:
There is the opportunity to get special. logo on Pedigree, you can choose from the following options:
None
Own, this requires you have a BMP or JPG image, name "egetlogo" in lowercase ex. (egetlogo.JPG or egetlogo.BMP) The file must be place in the "image folder".
(the ARVEPLAN folder on the desktop and the subfolder "billeder".
DAK (Dansk Agapornis Klub)
DUK (Dansk Undulat Klub)
BVA (Belgische Vereniging Agaporniden)
NOK (Norsk Undulat Klub)
SUH (Svensk Undulathobby)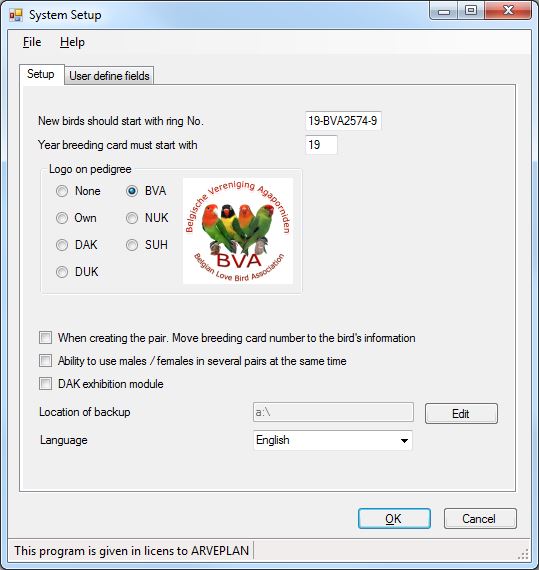 When creating the pair. Move breeding card number to the bird's information
A function to change the field "Staying in cage" on the  parents when create the pair.
Ability to use males / females in several pairs at the same time
Usually, in the program there is a check that a bird can only join a couple once in a while. For example, using a male for multiple females gives this control problems. Therefore, this option removes the control.

DAK exhibition module
Ability to register DAK exhibit results on the bird. As well as being able to Impot all the same results from DM.
Location of Backup
Here you can choose the place for your backup.
Press the "Edit" button to select where to place the backup.
Make sure it is on a USB key or similar so that the backup does not disappear if your PC crashes or is stolen.
Language
Here you choose your language.
User define fields

Here you can define your own fields.
Example: Lines, Feathers, Exhibition.
When you change this "User define code", ARVEPLAN is restart, and you can see this fields on the bird, place the fields on Bird list, make selection this fields …..