When ARVEPLAN is started first time, there is an empty bird list. The system is ready for you to register the first bird.
This Quick start guide, shows you how to:
Create the 2 first birds.
Create the fist pair.
Print a Breeding card.
Registered the youngs.
Print Pedigree for the youngs.
Create bird
Click on "Create bird" to create the first bird.
The following fields must always be filled in:

Ring (

Important: ring numbers must always start with year, ex 19-BVA2574-901).

Colour

Sex (Unknown, 1.0 or 0.1).

Create as (Own breeding, Purchaced, Parent Purchaced bird).

Bird status (Young bird, Breeding bird, For sale, Sold or Dead).

You must register the birds with Sex (1.0 or 0.1)  and as a "Breeding bird" if you are going to use the bird in a Pair later.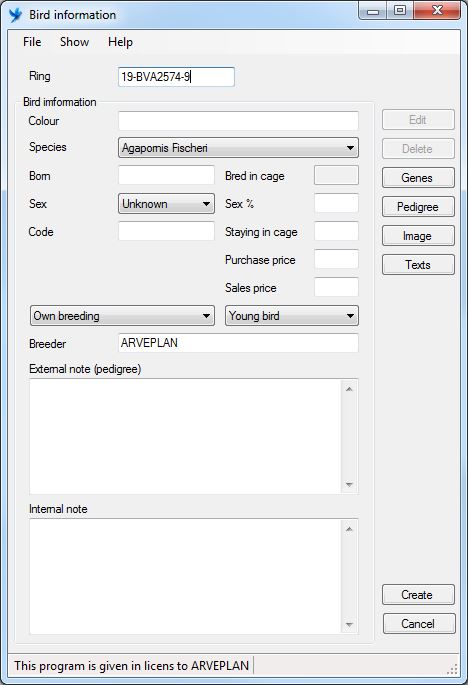 Create Pair – select bird
when you have created at least 2 birds as breeding bird (both  1.0 and 0.1) are you ready to create a pair
Click as "Create Pair" to create your first Pair.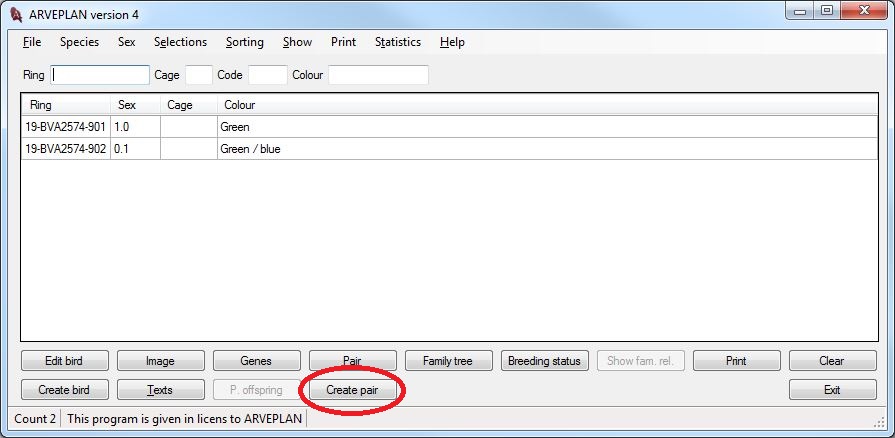 All "Breeding birds not in pairs" are shown
1.0 on the left and 0.1 on the right.
(the button "create pair", do the same as if you choose "Sorting" and "Split male/female" and choose "Selections" and "Breeding birds not in pair").
Select / mark (click) a male and a female.
Click again on "Create pair" and you have chosen a male and female for your Pair without having to enter their ring no.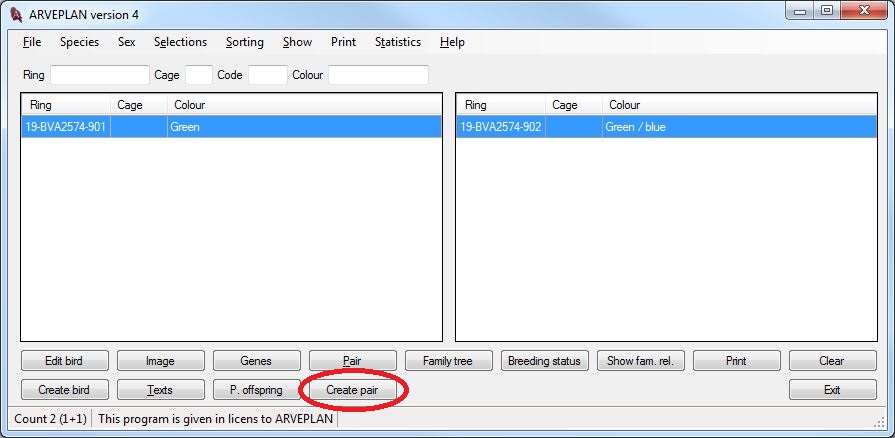 Create Pair
The "Breeding card" number consists of 3 fields: year, Cage and serial number.
You need to fill in:
Year (can also be set in "system setup") under Files.

Cage number.
The
system fills in serial number.
Other information does not need to be filled in.
Press Create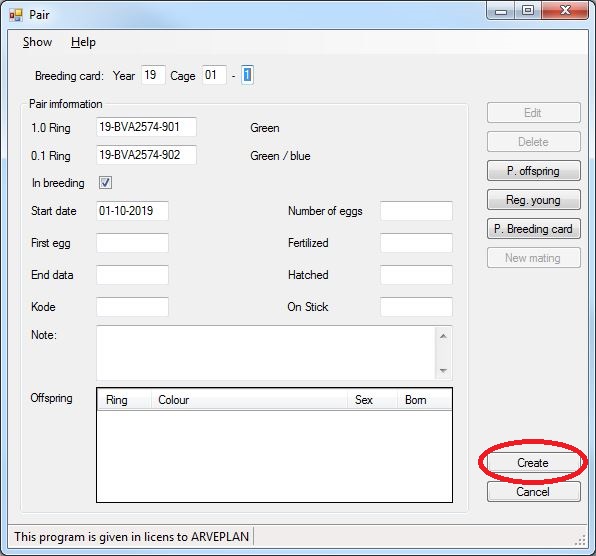 List of Pair / Print Breeding card
Click on "Pair" and you see the list of all your Pair.
The list is showing all your "Pair in breeding".
Select (click) a Pair and in the menu choise  "Print" and "Breeding card".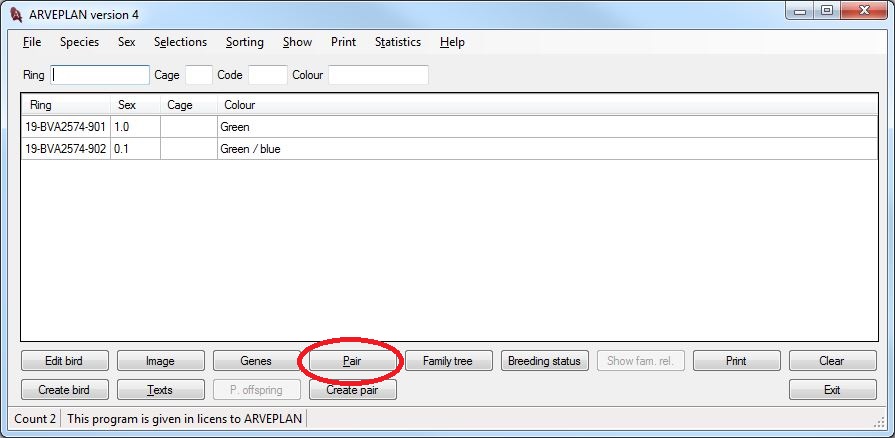 Print Breeding card
You can design your own Breeing card (Size and contents), or just click OK at use this format.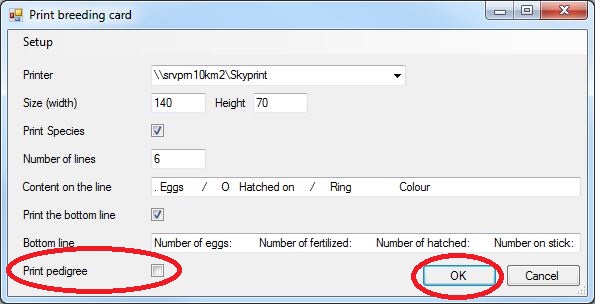 Register young

Click on "Reg. young".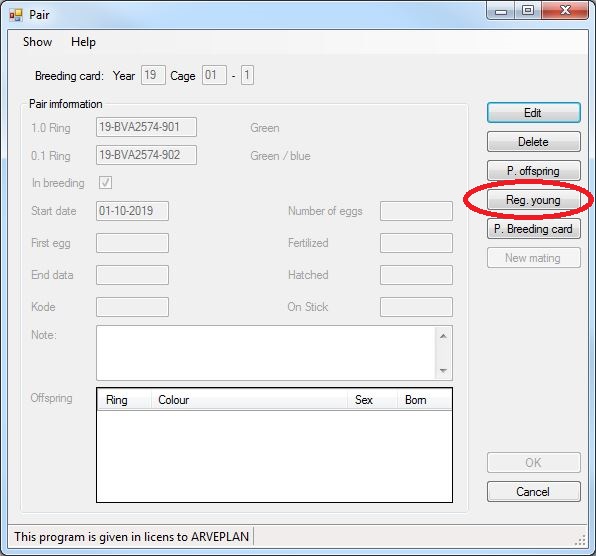 When you create young in this way, the following fields will be filled in automatically:
Stay in cage
Created as, Own breeding
Bird Status, Young bird
Breeder
You just have to fill in this fiends:
Click "Create", and young is listet on the Pair.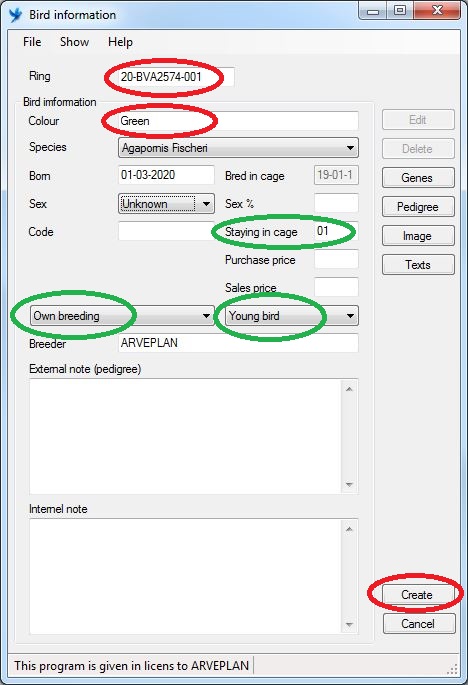 You can print Pedigree as A4 or A5
You can choose Pedigree in the following languages:
Danish
Swedish
Norwegian
English
German
Spanish
Dutch
French